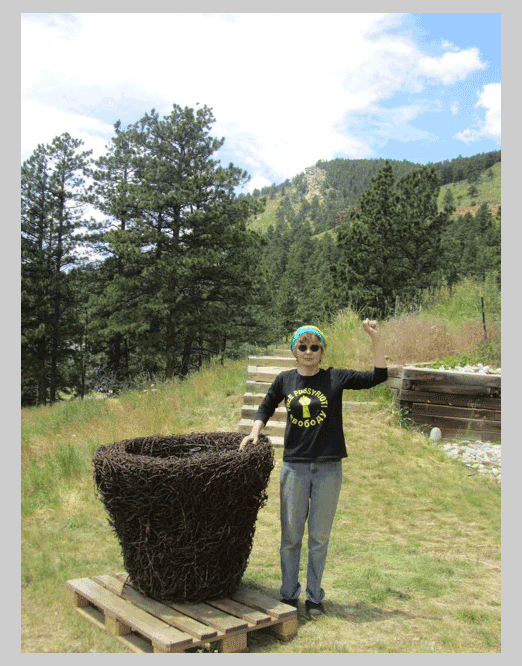 I was born in 1952, and grew up in Minneapolis, Minnesota. From 1970 - 1975 I lived in Moorhead Minnesota, graduating from Moorhead State University with a Bachelor Degree in Studio Arts in 1975.

In the early 1970's, while discovering my own style as an artist, I was also politically active trying to rectify the information missing from academic texts & classes, and pieces absent from art collections in museums everywhere - of art done by women. This passion was validated by securing some grants that promoted women's art and history. Then in 1976 I was one of 40 women in Minneapolis, Minnesota who founded W.A.R.M. Gallery (Women Artists Residing in Minnesota) which was a response to the lack of women's art being shown in local galleries and museums at that time.

From 1975 - 1990 my art consisted of large colored pencil drawings on paper. My drawings were created by filling in ruled horizontal spaces with many lines/layers of color, becoming gradual transformations of one shape/color into different shapes/colors. These images often kept moving across multiple panels of paper becoming quite large, for example: 4' tall and 16' feet long. My drawings have been shown in galleries and museums in Minnesota, New York, Arizona, Texas, and Colorado.

Around 1990 I set aside my pencils and began accumulating barbed wire and animal bones. I felt compelled to amass these things, although at that time, I was unsure exactly what would I create with them.

In years 1993 & 1995, I gave birth to healthy children. The needs of my children left me little time/energy for studio art so I turned my creative skills primarily towards the art of cooking - colorful organic foods were my palette. During this "Time of No Art" I also studied Tai Chi and Ikebana. Tai Chi teaches how to deflect negative energy. Ikebana teaches that way of design where "less is more", learning to see and eliminate clutter so unique beauty/essence can be revealed, and satisfying compositions are created without any superfluous lines or objects.

For the last couple of years I have been making barbed wire sculptures. This current group of sculptures are all part of a series I call "Western Lines". Even though barbed wire is an industrial product, my sculptures have organic shapes and just like the lines in my color pencil drawings, the wire compositions are based on many lines reacting to the first line.

Please see CV and Exhibition Record for specific academic, employment and exhibition details.